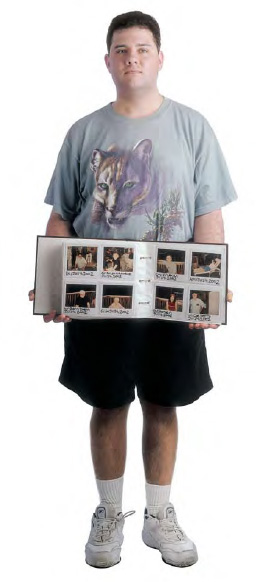 About the Album Project
Around the time of his fifteenth birthday in 1990, our son Isaac developed a serious curvature of his spine. Isaac has autism – a limited ability to communicate. Surgery was recommended. In an attempt to help him understand the surgery, we bought him a Polaroid Spectra camera. We hoped to use it to show him what was happening to his back and to record the people and places he encountered around the surgery. To our surprise, the camera became his constant companion at family events - a tool for him to order his world.

Because I wanted the images to be printed large enough to make the captioned photos in his albums "readable", this work was done on an 8x10 camera with film subsequently scanned, adjusted and printed. Isaac was photographed in roughly ten sessions in my studio producing 75 images.

This project is a record of Isaac and his photographs. It is a great success story for this young man as a survivor of his five-hour scoliosis surgery and, even more, his ability to overcome his limitations and build a life independent from his parents. It is a history and a tribute to the family members and friends who are no longer with us that live in his albums. The project is about telling your story with a limited palette – language, both verbal and written – body language – photographs. It is about the discomfort and frustration of using every tool you have and still not being understood.
--Chuck Mintz
Library of Congress Number 2009484868
ISBN Number 978-0-615-36822-1
Read More from the Album-Project Book
Topics Include: